About: Ovo Game
OvO Game is an online game that you can play for free on modern browsers. And created using html5 technology and is available on PC and Mobile web. So you can play the game online for free on Computers, and Android devices as well as on iPhones and iPads.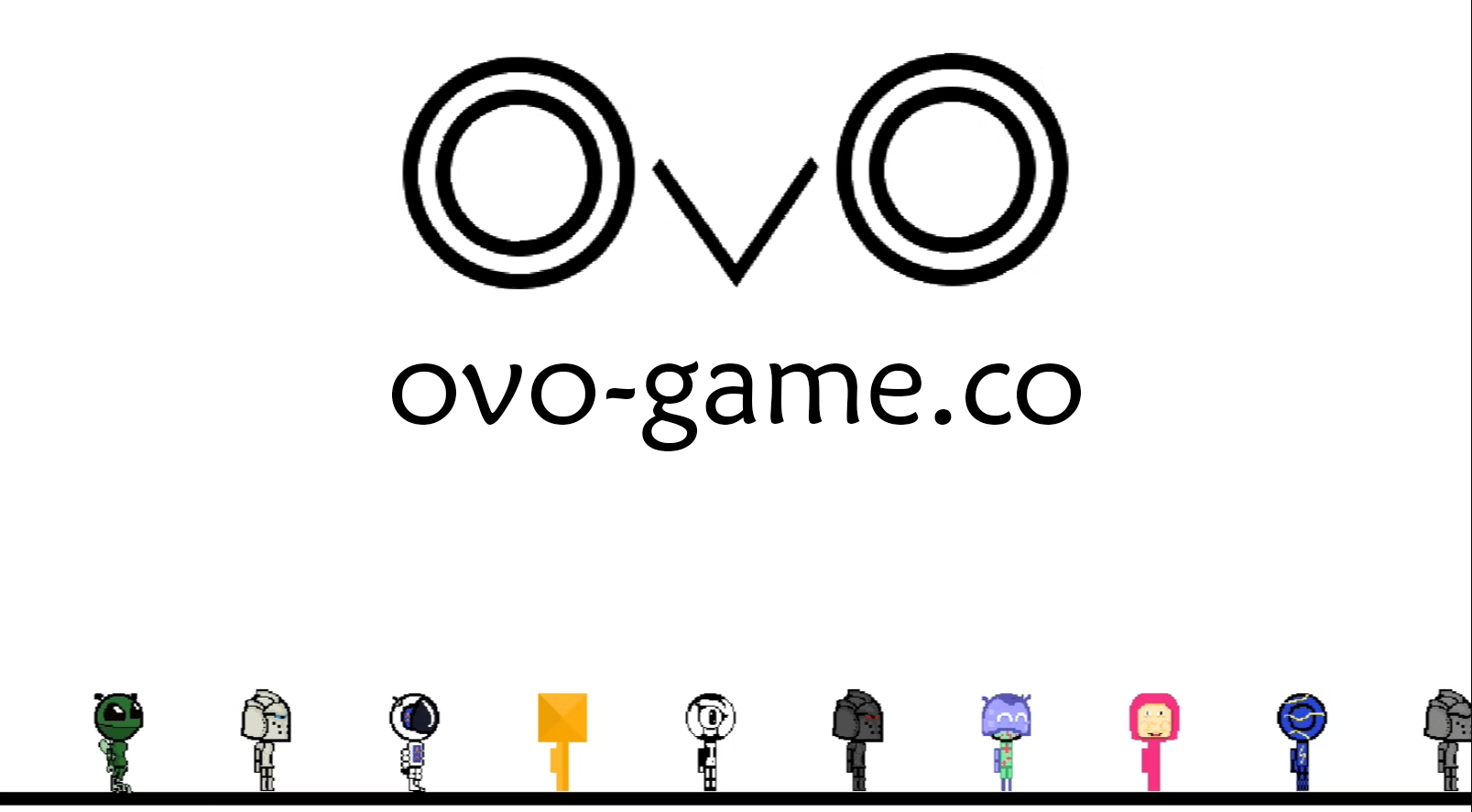 Game introduction
The game is a fast-paced platform and you need to use precise and improvised parkour skills to get through each level as quickly as possible. The further you go, the more complicated the obstacles will be, you need to make many jumps, slides, and climbs dodges to overcome the barriers. At each level, you will see different obstacles.
Like other games, the goal is to overcome obstacles and complete levels. The game is not timed but the faster you beat OVO the higher your score will be. In the levels, there will be coins, and you need to collect them. If you find all the coins, you will get the maximum score. This gives you more skins and achievements to unlock the next level.
Who created OVO Online?
This game was developed by Dedra Games. The game is released for free at major platforms like Coolmath game, Gamedistribution or you can play it directly OVO Game
How to play OvO
This is a challenging, exciting, and fast-paced platform game. To win this game you need to focus your brain on using every move skill you have to overcome them. The direction of obstacles on the way to your flag: dead spikes, moving traps, rockets, portals, etc. Explore and pass 52 levels as fast as you can to become the winner.
Basic mechanics of how to play OvO
To control your player, use the arrow tricks on your keyboard. If you press the left arrow key, your sticks run to the left and if you press the right key, they run to the right.
While you are running, press the down arrow key to slide below objects. To leap while playing OvO on your internet browser, press the UP arrowhead key. If you jump while sliding, you will jump further.
Press the down key when you are in mid-air to smash. This action allows the gamer to travel through transparent items in the game. If you wish to jump higher, press the UP switch after you use the attack. When learning how to play OvO, it's important to master these mechanics if you want to get far in the game.
Tips, Tricks, and Strategies
This is a challenging and enjoyable rate video game, however, you can get even more out of it by playing it. Here are some suggestions, tricks, as well as methods that will aid you to play better and also have a more satisfying experience.
Play with friends and relatives. This is a terrific game to play with close friends as well as household as you will certainly be actually contending against each other as well as supporting each various other. This is likewise a great opportunity to release your affordable side and enjoy!

This video game intends to boost memory and keep your mind energetic while playing it. You can make certain to keep thinking about all the approaches you're learning as you play so they stick with you after the video game. Keeping your brain focused will help you hit peak performance when it really matters!

At any level, your task is set to overcome the obstacles. When you complete all the missions you will get a lot of coins. You can utilize this money to update your character OvO! This is how you can become the fastest game-winner.
Top 5 game challenging games you can try!
There are a lot of games that are similar to OvO but more challenging that you can play for free.
1. Just a Platformer
Use W, A, S, arrow, or D keys to move as well as a leap. The game is divided into four parts, branching from the main hub. Each part has its own special dance style. Beat all four to unlock the final area below the center. But be advised: this video game is very, really hard!
TIP: During the wall jump, it's easier if you hold the W or UP key while sliding down the wall. By the same token, you won't jump until you press a directional key.
2. Big Tower Tiny Square
Press SPACEBAR to start, the arrow keys to move left and right, and press UP to jump. You can embark on wall surfaces to get to higher locations.
Big Tower Tiny Square is all about great timing and big jumps. The goal is to go all the way to the end of the tower and get the pineapple that is waiting for you at the top. There's only one problem - this isn't just your daily tower. When we claim a big tower, we mean BIG TOWER. Even the best players in the world take more than 15 minutes and for beginners, it can take up to 1 hour.
3. Flap Game
Use arrow keys or W, A, S, and D to move and jump. Keep pressing UP or W in the air to flap your wings and fly higher. You can only pat a few times before you get tired. Touch the ground to charge your battery. You can hold UP or W to glide through the air, which will allow you to go further in one jump. For a bonus challenge, try to win the golden feather on every level!
4. Moto x3M cool math games
The Moto X3M is made for thrill-seekers who want to play something where they can test their skills and reactions. Use arrowhead tricks to speed up, brake, or flip your bike. Complete the course as quickly as possible. Perform aerial stunts to shorten your run time!
Special stars are awarded at the end of each level, and players can earn 1 to 3 stars for each attempt. It is completely based on the player's time and each level will have a certain amount of time that the player must pass if he wants to achieve 3 stars. At first, easy to get 3 stars at first, but later levels will really push you to be perfect if you want to get 3 stars.
5. Math shooter
Experience the ultimate combination of math and shooting with our new Android game! In this goal-based game, players must use their shooting skills to blow up balloons. shows correct answers to various arithmetic expressions. With 8 tough degrees, gamers will be tested on their understanding of addition, department, reproduction, and subtraction. Each level offers 10 bullet points. to solve 10 expressions, so players must think critically and aim correctly to move forward.
Test your skills and improve your math knowledge with this fun interactive game. This is a target-based shooting game where the player needs to shoot the balloon to show the correct answer to the given arithmetic expression. In each degree, you will have 10 bullets to fix 10 expressions. Test both your shooting and math skills while solving addition, subtraction, multiplication, and division problems in 8 levels.
Conclusion OvO game
With simply the arrow keys on the keyboard, OvO's controls are quite basic. Moreover, OvO's controls are hence rather easy to master. As a result, OvO's timing is the only challenging aspect, but this shouldn't take too long. I firmly believe it will be a great choice for gamers especially speed lovers. This game will help you release the stress, and take you on fascinating adventures at each level. What are you waiting for, let's play the OvO game right now?
Discuss for Ovo Game